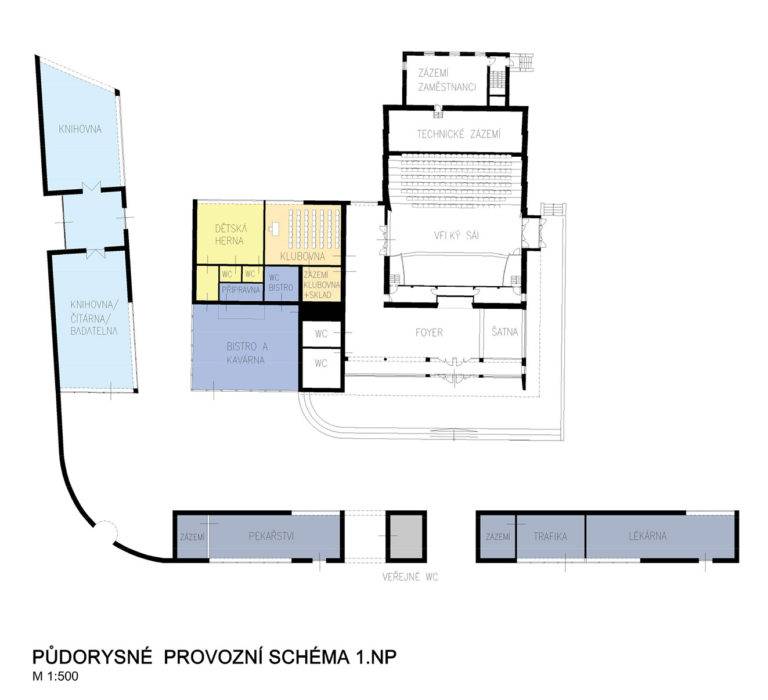 ARCHITECT
Ing. arch. petr Stojanov
Ing. arch. nikolaj Stojanov
YEAR
2019
PROJECT PHASE
studY
LOCATION
Horažďovice
visualization
monolot 
From an urban planning point of view, the design was intended to create a compact unit of buildings that will have a function focused on cultural and social activities (multifunctional hall for cinema, theater, lectures etc.), associated with a clubhouse, playroom for children and bistro-café. The separate library building, along Plzeňská Street, is connected only visually by shielding elements at the roof level of the bistro and games room. The raised platform in front of the cinema has been partially retained and is part of the quiet, internal public space and transitions to the ground floor by three steps. Steps have been added at the entrance to the cinema and disabled access to the foyer of the multi-purpose hall will also be added. 
Along Strakonická Street, two separate buildings are designed, thus enclosing the internal public space, in which there will be commercial units and as a separate unit, public toilets are designed in one of them. The gap between the two commercial buildings forms the main access to the internal public space and the multifunctional hall. In the situation to the gable of the right commercial building along Strakonická Street, another building can be added on private land perpendicular to Strakonická Street. Strakonická and thus close the whole area. In order to create a quiet internal public space, which will be screened from the busy Plzeňská and Strakonická streets, a wall has been designed from the library building along the pavement at the corner of both streets, up to the left commercial building. At the intersection of the axes of both pedestrian crossings, a gate is proposed as an additional entrance to the internal public space. The entrance from Strakonická Street, in front of Josefské náměstí, will be only for supplies and as an access and pedestrian passage to avoid the passage of cars in both directions to the car park behind the cinema and supermarket building. Outdoor lighting will also be provided, connected to the city's wiring.