Žižkov Railway Station

residence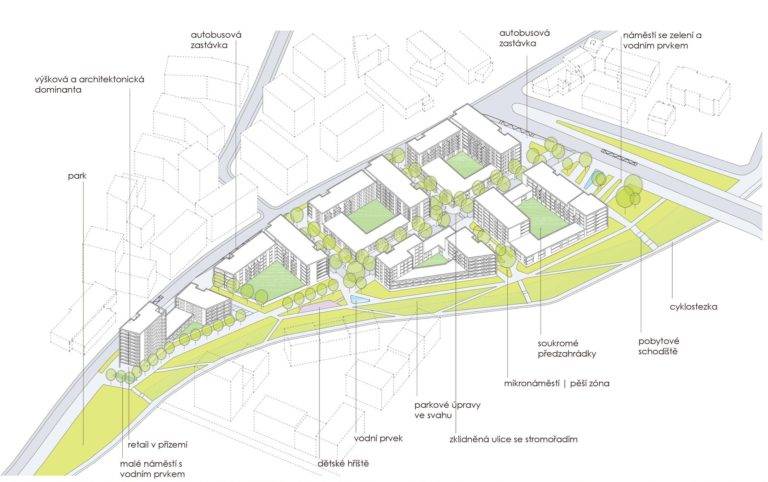 ARCHITECT
Ing. arch. Nikolaj Stojanov
Ing. arch. Lucie Kirovová Ph.D.
Ing. arch. Petr Stojanov
Ing. arch. Šárka Kubátová
Ing. arch. Tereza Dufková
YEAR
2019
PROJECT PHASE
studY
LOCATION
Praha
visualization
monolot
Based on the characteristics of the site, we propose a block permeable development in the area, whose regular rhythm is linked to the surrounding roads and creates an urban street front. The orientation of the blocks and their height structure responds to the attractive views from the site and the organic shaping of the landform on the south side of the site.
The blocks rise up to a maximum height of 6 storeys towards Malešická Street, with the exception of the building at the western end, which forms a height dominant feature of the area. Each block is distinct and original, and at the same time the same layout and material principles are followed for all buildings, allowing easy construction and modification of the layout. This diversity in the space of the new development evokes classic urban development.
The proposed buildings are characterised by dynamic sloping facades of short wings, which respond in shape to the terrain and the shape of the land. In these fronts, balconies and loggias are designed to lighten the individual masses, emphasizing the corners while ensuring a rational orthogonal layout of the apartments.